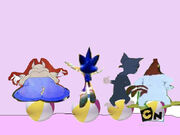 Trivia
This is Sonic the Hedgehog's first apperance in an inflatable popping show. Sonic isn't a Cartoon Network or Fox Kids character, but he loves popping beach balls that he auditioned to appear in several inflatable popping shows.

All of this could mean that there was a TV show named Sonic Boom that ran on Cartoon Network in 2014.

Foghorn Leghorn, Porky Pig, Sonic the Hedgehog and Tom's beach ball sitpopping scenes contain lots of toilet humor.
Goofs
Although sitpopping one in this episode, Foghorn Leghorn didn't play Beach Ball Bounce until

Big Cats

in 2014.