Porky Pig's Hotel is a Looney Tunes cartoon starring Porky Pig, Daffy Duck, Elmer Fudd, and a surprise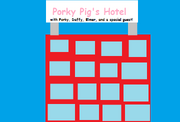 cameo appearance by Bugs Bunny. It is also a new version of Porky Pig's Feat, Porky Pig's final appearance in black-and-white.
Plot
The cartoon begins at Broken Arms Hotel, where Porky is given a bill that costs $155.60, and Porky tells Elmer Fudd (who's the hotel manager in this short) that he doesn't have enough money. He tells Elmer that Daffy can help pay for the bill, but Daffy hears this, telling them that he doesn't have enough money either, so Elmer tells them that they have to pay for the bill or, "nevew weave the hotew!". Daffy and Porky runs out of their room. Elmer chases after them,only to be tripped by Daffy, falling down many stairs. After Elmer Fudd comes back up, Porky and Daffy heads back into their hotel room. They try to fly out of the hotel, only with Elmer Fudd hanging on to Porky's feet. The three lands safely, but Elmer locks them up. Winter approaches, and Porky suggests calling Bugs Bunny for help. But as it turns out, Bugs Bunny is locked up in the next room himself!
Cast
Bob Bergen as Porky Pig
Joe Alaskey as Daffy Duck, Bugs Bunny
Billy West as Elmer Fudd
John DiMaggio as the Narrator (at the beginning of the cartoon)
Transcript
Main article:

Porky Pig's Hotel (transcript)