"Beep Beep!"
--Road Runner
Road Runner



The Road Runner

Personal Information
Gender
Male
Species
Roadrunner
Age
35
Birthday
September 14
Homeworld
Earth
Residence
The Middle of Nowhere
Interests
Running on the world
Family
Production Information
First appearance
Fast and Furry-ous (September 14, 1949)
Voiced by
Paul Julian (1949-1995)
Dee Bradley Baker (1995-present)
Frank Welker (1988, 1990-1992, 2007, 2011-present)
The Road Runner is the world's fastest bird alive and has been created by known animator Chuck Jones. He is a Greater Roadrunner who runs from the ravenous Wile E. Coyote. He says "Beep Beep!" just like a car, and was recorded by Paul Julian, although it sounds like "Meep Meep!"
Fanfiction
He has appeared with Wile E. and/or the other Looney Tunes in episodes of Looney Tunes Works.
Road Runner is one of the minor characters in Bugs Bunny's House of Toons. He also has some major appearances in some episodes. He is often shown in the series getting chased by Wile E. Coyote or annoying him. He was also shown to help out Bugs Bunny and the other Looney Tunes in some episodes.
He also appears as a main character in New Looney Tunes and usually appears with Wile E. Coyote in the episodes.
He also appears in Road Runner Wile E. Coyote Show as a main character.
In The Looney Tunes Show (2006-2011) he was rarley paired with Wile E. Coyote. In season 1, he was shown to have love for Tina Russo. However in season 2, her love went towards Barnyard Dawg.
Laws and Rules
According to Chuck Jones, there are rules to these shorts:
Road Runner cannot harm the Coyote except by going "beep, beep."
No dialogue ever, except "beep, beep" and Wile E. yowling in pain or laughing.
Road Runner must stay on the road—for no other reason than that he's a roadrunner.
All action must be confined to the natural environment of the two characters—the southwest American desert.
The Coyote is not allowed to catch the Road Runner.
Gallery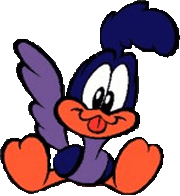 Community content is available under
CC-BY-SA
unless otherwise noted.