the Wile E, coyote and roadrunner show is a show that aired on cartoon network and boomerang. it was aired since 2012. it is like the original coyote and roadrunner cartoons.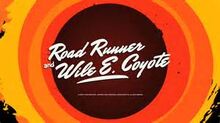 Plot
it is a show that has roadrunner and coyote. as always they both still chase each other.
Season 1 episodes
Coyote gets the boot
2. roadrunner the bird
3. wile e. the coyote
4. the three little roadrunners
5. whats up wile?
4. the singing roadrunner (the first time roadrunner sayed something besides meep meep)
5. wile. e coyote vs roadrunner
6. the evil roadrunner
7. wile .e coyote talks about random stuff.
8. the coyote above and the roadrunner below
9. wile e. coyote and jerry
10. roadrunner falls in love
season 2 episodes
bugs bunny and wile. e coyote
the night before Christmas
the midnight snack
the bird gets the AW YEAH!
wile. e. coyote falls in love
salt water roadrunner
coyote and dupli-coyote
pent house-roadrunner
surf board coyote
the year of the roadrunner
the coyote concerto
Season 3 episodes
the roadrunner of Seville
the flying coyote
roadrunner falls in love again
roadrunner and the baby roadrunner
has this ever happened to you?
suffering succotash!
meep meep!
love me love my roadrunner
roadrunner for dinner
blue coyote blues
Community content is available under
CC-BY-SA
unless otherwise noted.